About Us and Team
At Affordent of Springdale, we can combine the latest in Sirona all-ceramic dental restoration technology with an on-site laboratory to provide our patients with their crowns, veneers and other dental restorations in as little as one day!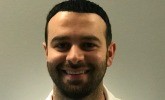 Araz
DDS
Dr. Araz Amedy spent the early part of his childhood in Minnesota where he fell in love with winter and sports at an early age. His family relocated to Nashville in 2001 and Music City became his new home. Dr. Amedy attended Middle Tennessee State University where he originally studied aerospace engineering to become a professional pilot pursuing his love of traveling and experiencing different cultures, however, after a short period, he realized he preferred travel as a leisure and not a career and decided to pursue his love of Dentistry. He graduated with a degree in Biochemistry with a minor in Biology and Chemistry before being admitted into the University of Tennessee Health and Science Center where he completed his Doctorate in Dental Surgery. Dr. Amedy practiced in a general family dentistry clinic in Northern Kentucky before bringing his talents to Springdale. He is an active volunteer in professional organizations that help guide high school students to higher education and also serves as a pre-dental mentor for aspiring future dentists. As an avid hiker, he is very impressed and excited to explore the beauty Northwest Arkansas has to offer. During his free time you may find him out fishing, on a hiking trail, or traveling to a new destination to experience new cultures.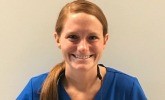 Heather
RDH
Hi everyone! My name is Heather Collins and I am a Registered Dental Hygienist at Affordent of Springdale. I recently moved back to Northwest Arkansas from Dallas, Texas, where I received an Associate of Applied Science Degree in Dental Hygiene from Concorde Career College. Prior to Dental Hygiene school, I received a Bachelor of Science in Community Health Promotion from the University of Arkansas. I am married to my husband of [almost] five years, Hunter, who recently completed five years as a Technical Engineer in the Army, and is now working on a degree in Civil Engineering at the University of Arkansas. Together we have two dogs, Paisley, a female Lab mix, and Charlie, a male German Short-haired Pointer. In my free time, I like to travel, attend Razorback games, watch movies, and hang out with friends.