About Us and Team
Our team at DDS Dentures + Implant Solutions of Springdale is here to serve you. Whether you're looking to get a new pair of replacement dentures, dental implants for a denture or a single tooth implant, a cleaning, or most services in between, we can help you fill that need.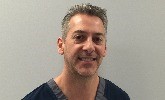 Johnny Maravich
DDS
Dr. Johnny Maravich spent his entire childhood in Edmond, Oklahoma. After graduating from Deer Creek High School in 1988, he moved to Stillwater to become an Oklahoma State Cowboy. Dr. Maravich graduated from Oklahoma State University with a Bachelor of Science degree in Economics. He soon realized that the business world was not for him, and he decided to pursue his love of dentistry. Dr. Maravich was accepted to the University of Oklahoma College of Dentistry in 1995, and graduated four years later with his Doctor of Dental Surgery degree. Dr. Maravich has been working with Dentures and Dental Services in Grove, Oklahoma for the past 16 years. He and his wife of 21 years, along with their four children, moved to Northwest Arkansas in the fall of 2015 to help open Dentures and Dental Services' new Springdale clinic.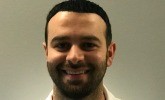 Araz Amedy
DDS
Dr. Araz Amedy spent the early part of his childhood in Minnesota where he fell in love with winter and sports at an early age. His family relocated to Nashville in 2001 and Music City became his new home. Dr. Amedy attended Middle Tennessee State University where he originally studied aerospace engineering to become a professional pilot pursuing his love of traveling and experiencing different cultures, however, after a short period, he realized he preferred travel as a leisure and not a career and decided to pursue his love of Dentistry. He graduated with a degree in Biochemistry with a minor in Biology and Chemistry before being admitted into the University of Tennessee Health and Science Center where he completed his Doctorate in Dental Surgery. Dr. Amedy practiced in a general family dentistry clinic in Northern Kentucky before bringing his talents to Springdale. He is an active volunteer in professional organizations that help guide high school students to higher education and also serves as a pre-dental mentor for aspiring future dentists. As an avid hiker, he is very impressed and excited to explore the beauty Northwest Arkansas has to offer. During his free time you may find him out fishing, on a hiking trail, or traveling to a new destination to experience new cultures.