About Us and Team
Our team at DDS Dentures + Implant Solutions of Ponca City is here to serve you. Whether you're looking to get a new pair of replacement dentures, dental implants for a denture or a single tooth, a cleaning, or most services in between, we can help you fill that need!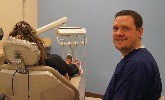 Dr. Bugg
Chris Bugg, DDS
Dr. Bugg graduated from OU Dental School in 2002, and has been actively practicing ever since. Living out a modern version of the Brady Bunch, Dr Bugg lives with his wife and 7 children in Cushing, OK. In his free time he enjoys scuba diving and flip-flopping his alliance between both of his Alma Maters, OU and OSU.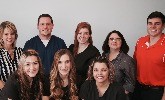 Team
Our Team
Our team here at Ponca City Dentures and Implant Solutions is here to serve you! With many years of experience delighting patients, assisting dentists, and dealing with insurance companies, our team will always welcome you with a smile!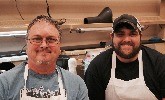 Lab
On-Site Lab
With our on-site lab in most cases you can have immediate dentures, replacement dentures, or crowns done in just one day.